If you have comments on my translation, typos or other errors, give me feedback on my email or contakt. I appreciate it, thanks
Shower exchanger that returns energy from your old shower. water reduce the amount of hot water by 30%.
This shower heat exchanger has now undergone SP Technical Research Institute tough testing . It is the same design on the now certified heat exchangers as they previously sold when the shut-off valve and check valve to come.
This is a confirmation of a safe and reliable product.
The function of the heat exchanger is simple. By taking heat from the just use the shower water and transfer it to the cold water. The cold water will then be preheated. When cold water is not cold anymore so you will use less hot water. Note that it does not reuse old shower water but only clean energy.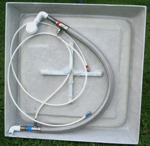 How does it work?
Shower exchanger is specially designed to be installed in a shower stall or bathtub. The heat exchanger replaces the pipe or hose which normally runs from the outlet of the shower tray to the floor drain. The assembly is usually to make the existing cabin. Most often, such as "do it yourself" without dismantling the cabin. This picture shows how it can look like during a walk-mounted heat exchanger

The heat exchanger consists of two metal tubes in fired in each other and in the gap between the inner and outer tube as the cold water flows and is preheated by the hot shower water use. The outer tube is not visible, it exists in the braid which is to stabilize the heat exchanger
The corrugated surface creates a turbo smooth water stream which has a cleaning effect and that the heat transfer surface becomes larger.

There are no obstacles for the shower water towards the drain therefore all that the risk of clogging is small.
Most common is that you build a heat exchanger where the water flows narrow gaps where a stop is usually built up.
This has been avoided with this heat exanger.

The heat exchanger design is protected in the EU

How to calculate the efficiency and payback
Fill in your shower water temperatures, outgoing wastewater after the heat exchanger and cold water. Although energy cost can enter.
Where do you see your savings and payback period. Follow the instructions ..
There are two sizes Type 1 and Type2 this that there are two common standard connection dimensions of the waste water side, the spent shower water. It is 32mm or 40mm.
So before you order, check the dimension of the drain side of your shower stall.
Cold water side connection size is 1/2" R15. Commercially available all the accessories you need for installation.
The total length is between 1750mm and1500mm cold water connections
Shower heat exchanger may only be installed in wet approved rooms. It is not allowed to build in the heat exchanger in the floor or in the hidden room.
It is not allowed to put the heat exchanger directly on the floor if there is underfloor heating. Risk of legionella bacteria.
Otherwise no risk of legionella
Prices
Including shipping and tax. You get 30 days of payment by invoice.
14 days with paid return shipping

Type 1 xxxkr
Type 2 xxxkr
Order allows you to fill in your information-in form under Contact